Healthy skin and coat
By regularly checking your cat's or dog's coat and skin, you can spot any unusual lumps or areas of sensitivity at an early stage. Skin can become irritated, red and sore for a number of reasons, including infection or allergy, and it's a signal to visit your vet for advice.
Regular brushing is important to prevent periodontal disease, where tartar builds up and gums become inflamed. Providing dental chews for dogs, such as OraVet® Chews, and chew toys helps keep teeth and gums healthy. For more information on OraVet please click here.
Bright healthy eyes
If you find mucus in the corner of your pet's eyes, or even a slight watering, remove it with a clean cloth soaked in warm water. Gently wipe the mucus, in a downward direction, away from the eye. If you notice red and inflamed eyes (blood-shot) or persistent watering, consult your vet.
Clean ears
Gently check your pet's ear flaps and ear canal openings and, as long as the ears are clean and odourless, leave them well alone. Puppies and kittens in particular can sometimes have black or dark brown ear wax, causing them to shake and scratch their head. Have a chat with your vet if your pet's ears require cleaning or if they have a strong or unpleasant smell.
Nails
If your dog spends more time walking on carpet and grass than on hard floors or concrete, teach them to give you their paw to have their nails cut. Cats' claws, especially those of indoor cats, may also need regular trimming. Your vet can advise you on the appropriate method, and how much to trim off.
Image

Image

B01 - Pet Care & Hygiene Checklist
Pet Care & Hygiene Checklist
Image

Image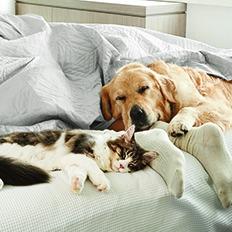 B02 - Your Pet's Bedding - Keep it Clean!
Your Pet's Bedding - Keep it Clean!
Image

Image

B03 - Your Dog's Dental Care